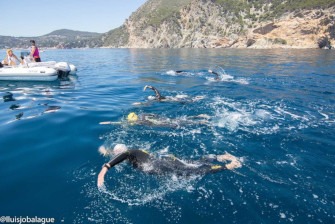 Registration open for Oncoswim 2020 to raise funds for breast cancer – February 2020
On Saturday 1st February, the registration period opened to participate in the fifth edition of l'Oncoswim, the sports and solidarity challenge organized by the Fundació Oncolliga Girona and the CN RadikalSwim, which consists of swimming in teams of four people along the 30 km that separate the beaches of l'Estartit and Calella de Palafrugell.
The competition will be held on 6 June and aims to raise funds to finance a research project promoted by the Universitat of Girona (UdG) on triple-negative breast cancer. Since the first edition, 96,000 euros have been raised for this research.
Registrations have also been opened for the Milla Solidaria, the most popular version of l'Oncoswim, which consists of swimming the Via Brava stretch from Llafranc to Calella de Palafrugell (approximately 1.6 km).
The inscriptions are made through the web www.oncoswim.cat. In the case of l'Oncoswim, the registration fee for federated members is 220€ and in the case of non federated members it is 231€. In addition, each team must make a minimum contribution of 500€ as a donation. In the case of the Milla Solidaria, the registration fee is 20€ for federated teams and 23€ for non-federal teams.
If you would like to participate in this solidarity event, please do not hesitate to register and reserve accommodation in one of our fantastic apartments by clicking on the following link.