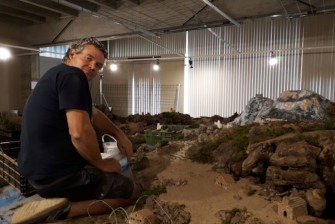 Inauguration of the nativity scene of Josep Mir – November 2019
On Friday 29 November at 7 p.m. in the Museum of the Mediterrània the inauguration of the nativity scene of Josep Mir will take place.
The cork, the trunks and the land, draw the unmistakable scenario of the territory of the Baix Ter with the Montgrí, the river, the Medes Islands and the surrounding villages.
The museum's nativity scene is made possible thanks to the initiative of Josep Mir and the collaboration of Robotec, who every year makes a great effort to surprise visitors with a different and original nativity scene. With his sensitivity and skill when it comes to the design and elaboration of the nativity scene, he delights both young and old every year.
Duration of the exhibition: From 29 November 2019 to 03 February 2020.
Free visit.
In collaboration with: Department of Culture of the Generalitat de Catalunya, Girona Provincial Council and Robotec.