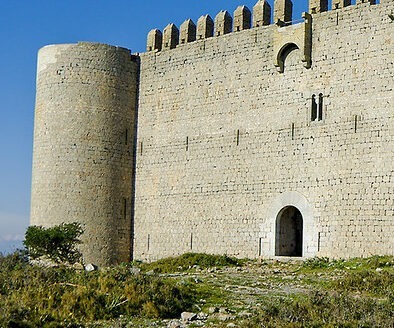 Come and enjoy the views of the Empordà from Montgrí Castle
Montgrí Castle (also known as the Santa Caterina Castle) has been declared a Cultural Asset of National Interest and is one of the most important medieval elements in Catalonia.
Situated at an altitude of 315 metres, the views from the castle are spectacular. If you visit it, you can enjoy the impressive landscapes of the Baix Empordà, the Montgrí massif and the Illes Medes.
Do you know its history?
The castle was built between 1294 and 1301 by order of King Jaume II "the Just". This military fortification was begun by Bernat de Llevià, in order to be a control point against the attacks of Ponç V, Count of Empúries. Stonemasons, masons, carpenters, blacksmiths and many others worked on its construction.
Due to the consolidation of the power of the County of Barcelona over the County of Empúries, the castle was never completed and construction was halted in 1301. Despite the fact that neglect had led the building to a worrying state of degradation, in 1985 a request was made for it to be restored and finally, in 1989, the restoration work was completed.
The castle, considered an emblematic symbol of the municipality, is a destination of great tourist interest because of its history and because it is a visual reference point for the entire Empordà region. It is also an ideal place for hiking routes.
If you want to enjoy a spectacle of nature with your own eyes, we recommend that you climb this massif early in the morning or late in the afternoon, just before sunrise or when the sun is about to set. Visiting at this time will allow you to see a sensational sunrise or sunset.
What are you waiting for to live a unique experience? Few things give you more peace than witnessing a landscape like this in this place.
Sa Gavina Apartments
Don't think twice and come and stay in our flats, we are only 10 minutes by car from Torroella de Montgrí!
What better plan than to leave early in the morning and witness a spectacular sunrise at Montgrí Castle, or to return late in the afternoon, after having seen a splendid sunset?
You can make your booking by clicking on the following link
If you have any questions before making a reservation, please do not hesitate to contact us.
We look forward to seeing you!
---
Photography: https://www.flickr.com/photos/7455207@N05/5246140640/in/photostream/