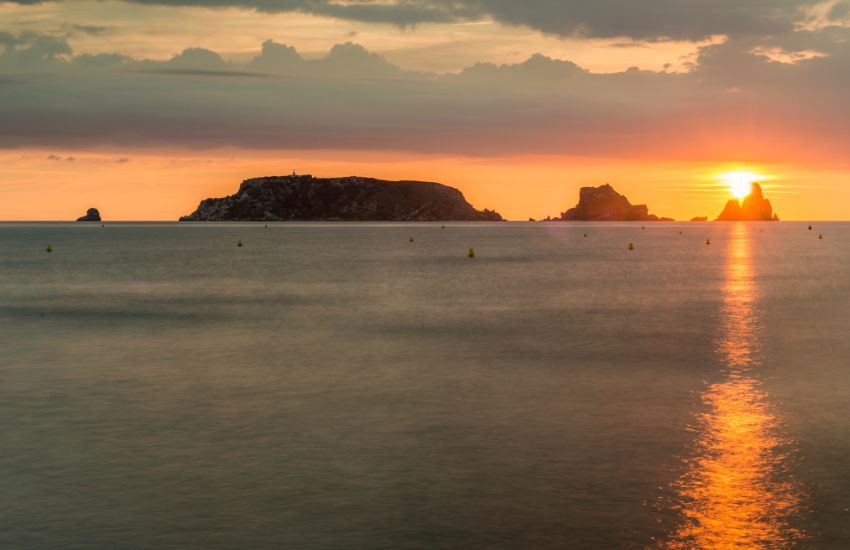 Dreamlike sunrise L'Estartit
L'Estartit and its surroundings offer you a great diversity of unique natural riches. Its physiognomy and its natural ecosystem give you the chance to experience a dream landscape at sunrise from different locations. We share with you our recommendations for your stay in Sa Gavina.
Sunrise in Gola del Ter
If you are looking for a moment of peace with unbeatable views, the Gola del Ter is, without a doubt, a must in the area of L'Estartit. Located at the mouth of the River Ter in the Mediterranean Sea, its an extensive beach with soft, fine sand far from the big city and immersed in a natural environment.
Here you can watch one of the most outstanding sunrises in Catalonia and the beginning of the night with the moonrise over the Mediterranean.  It is the ideal place to observe the Medes Islands and Montgrí Castle in all their splendor.
Boat evening
Are you looking for the best views of L'Estartit and its natural ecosystem in a magical sunrise? A boat trip is undoubtedly the ideal option. Departing from the Olympic Port of L'Estartit you will start a unique route from which you can sail across the bay of Roses, and observe the Medes Islands and the landscape of L'Estartit with the setting sun. You will have a unique seat for one of the best sunrises on the Costa Brava.
Sunflower fields at sunrise
Near L'Estartit, in L'Empordà, you will find one of the best sunflower fields in Catalonia. At their peak in spring and summer, in harmony with the surrounding mountains. They accompany the sunrise to offer you a beautiful sunrise.  We recommend you visit the fields in the villages of Valldevia, Torrela del Fluviá or Albons.
Make the most of your visit to L'Estartit by experiencing magical moments.
We are waiting for you!