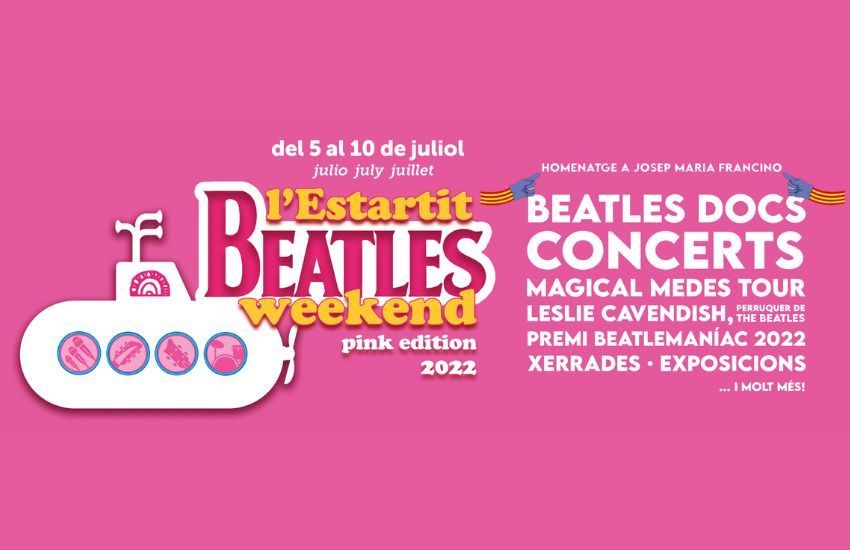 Are you a lover of the music of the 60s? The Beatles Weekend 2022 will take place in Torroella de Montgrí-L'Estartit from Tuesday 5 July to Sunday 10 July.
Beatles Weekend 2022 has been organised by the Decentralised Municipal Entity. During these days, there will be several concerts, exhibitions and many other activities to pay tribute to the most influential rock band of all times.
If you want to know the full programme, read on!
Beatles Doc's Programme
Tuesday, 5 July 2022
The Beatles Magical Mystery Tour
Time: 19 h
Place: EMD Assembly Hall
Wednesday, 6 July 2022
Paul McCartney / Independence Concert Kiev / Independence Square / Ukraine. 17 juny 2008.
Time: 19 h
Venue: EMD Assembly Hall
Saturday, 9 July 2022
Josep Maria Francino, Xino. Radio, music and The Beatles by Toni Verdaguer.
Time: 12 h
Place: EMD Assembly Hall
Beatles Weekend 2022 Programme
Friday, 8 July 2022
Vintage Blues Band
Time: 22 h
Venue: Church square in Estartit
Strawbery friends
Time: 24 h
Venue: Sala Mariscal, L'Estartit
Saturday, 9 July 2022
Concert BW2022 – Tribute to Josep Maria Francino (Els Folls, Radiokuartet, Magical Mystery Grup).
Time: 21:30 h
Place: Plaza del Molinet
Sunday, 10 July 2022
Magical Medes tour Nautilus (Ambdós Two Of Us)
Time: 11 h
Place: Port de l'Estartit
Choral Singing Concert 'The voices of Estartit sing The Beatles'.
Time: 19 h
Place: Church of Santa Anna in l'Estartit
Because Tribut band
Time: 20 h
Place: Church square in Estartit
–
Undoubtedly, a days full of fun, music and joy!
For more information, please visit the following link.
To download the programme of The Beatles Weekend 2022 click HERE.
Sa Gavina Apartments
If you need to stay during these days in l'Estartit, we are open!
At Sa Gavina Apartments we offer: accommodation with free WIFI service, air conditioning, balcony or terrace, sheets and towels included, lift in each building, outdoor swimming pool with Roman stairs, etc.
You can book by clicking HERE
---
Picture: www.agendatorroella.com